Frankii's History the Fully Fashioned Nylon Stocking
by Frankii Wilde
Today I'm gonna give you a bit of a history lesson and a little insight into the appeal and allure of the fully fashioned nylon stocking.
It's no secret that I adore wearing hosiery. In particular stockings. My favorite type of stocking is what is called a 'fully fashioned' stocking. If you're not familiar it's the vintage style that doesn't stretch, is quite delicate and has the seam up the back of the leg.
Hosiery has been around since ancient times however it was the tudors that made knitted stockings fashionable in the 1500s. Stockings started to get really fancy in 1864 when William Cotton patented a 'flat knitting machine' in Loughborough England. This new state of the art machine now meant that the knitted fabric could be shaped and tailored to follow the contours of the leg.
Prior to the introduction of nylon in the late 1930s stockings were often made from wool, cotton, silk and in the 1920s Rayon which was a cheaper alternative to silk.
People were really impressed with Nylon. It's just as sheer and glossy as silk but much harder wearing and you can get them wet. In 1940 the first nylon stockings appeared in stores and over 72000 pairs were sold on the first day. Unfortunately WW2 was happening and nylon had to be used exclusively for war materials. This meant nylon stockings were rare and scarce now and I believe for this reason they became quite the fetish for both men and women. 
Women were so desperate they would use makeup on their legs and draw the seam on the back of their legs with eyebrow pencil. I've been there girl, believe me.
Now that's the history let's find out what the hell an FF nylon is all about….
Fully Fashioned Stockings
Not many people these days are aware that the seam of a fully fashioned stocking actually serves a practical purpose (as well as being very decorative to look at). The stockings are made from a flat sheet of nylon, cut to the shape of a leg and foot and sew together at the back which creates that iconic seam.
They are often knitted quite thin (15 denier) and aren't very stretchy. They always appear quite long when you take them out of the packet but I can assure you this can be very deceiving. I have quite thick thighs so I need to buy very large stockings because the thicker the thigh area or calves the more length will be taken up and the stockings will appear shorter.
The traditional way (the way the fetishists go doolally over) is to wear them very high. So high the welt sits under your butt cheeks. When the stockings are worn lower down the thigh it's referred to as the 'french way'. People can be very particular about the way you wear your stockings… especially if you have wonky seams!
When wearing fully fashioned stockings, the more suspender clips/straps the better. You'll have a tough time trying to keep your seams straight with a four strap suspender belt. I like to wear 6-12 straps with my FF nylon stockings to keep my seams straight...and it looks hot!
You can get suspender belts with a lot more straps but then we're getting into suspender/garter belt fetish so I'll leave that for another post.
A proper fully fashioned nylon will feature a keyhole loop, compression stitching, a functional seam and a reinforced heel formed with additional layers of nylon. The Funky retro diagram below highlights all the various features.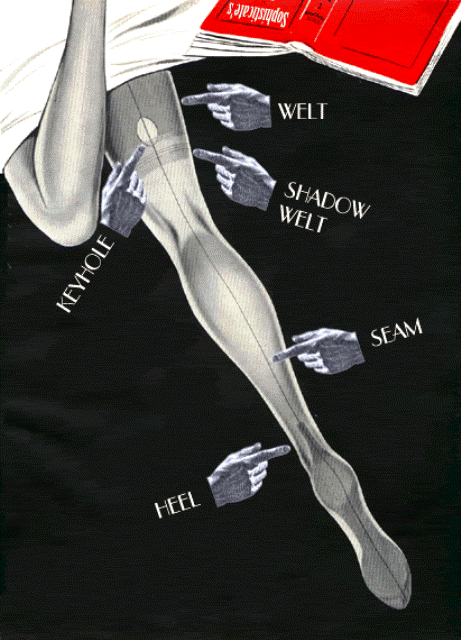 Welt –  This is the part of the stocking where the suspenders are attached and needs to be hardier than the rest of the stocking. I've found that vintage stockings frequently have writing printed on the welts which adds that extra touch of authenticity and the stockings are to be  worn with the writing on the outside of each thigh.
Shadow welt – This is a single thickness of welt – a lighter transitional area between the darker welt and the single layer of nylon found in the rest of the stocking.
Keyhole – The keyhole is a bi-product of the manufacturing process and looks quite decorative. It's very tempting to clip your suspenders through this hole and I have been guilty of this so many times but it's not actually robust enough to support suspenders so it's not recommended to clip them through this hole!
Seam – The seam binds the stocking together. Fully fashioned stockings can be easily distinguished from modern seamed stockings by looking at the seam closely. If it appears to have been printed on or sewn on unnecessarily, it's just for show and has no functional purpose.
Compression stitching – your stockings are not imperfect or faulty. This is a row of needle marks each side of the seam formed during the seaming process.
Heel – This is my favourite part and I love discovering rare heel designs. The heel is designed to reinforce the sole of the foot for wear and tear when you wear shoes. You will find fetishists tend to have a particular heel they prefer. The most popular I find is cuban but my favourite heel is the Manhattan or memphis heel. You tend to find most modern style stockings favour the point heel.
My preference for heels can change but I have been a big fan of the newly discovered (to me) Memphis heel this year! I've also dabbled in some Harmony point, Susan and Manhattan this year too!
Thanks for indulging me in my fetish for fully fashioned stockings.
Mwah Frankii 💋
https://onlyfans.com/frankiiwilde
https://www.instagram.com/wildeaboutfrankii